Thank You to Randy Berridge
February 6, 2017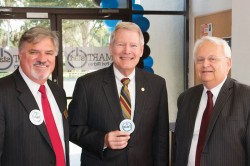 Randy Berridge is no stranger to many regional economic development leaders. Over the past 21 years, Randy has elevated the Florida High Tech Corridor to a nationally recognized public private partnership through the many endeavors he has spearheaded, or silently supported behind-the-scenes—all to move industry and innovation forward, throughout Central Florida.
Randy is retiring from the Florida High Tech Corridor Council (FHTCC), after leading the organization since 1996. The Corridor's mission is to grow high tech industry and innovation through partnerships that support research, marketing, workforce, and entrepreneurship. Randy's leadership and ability to motivate people around this Mission was instrumental in the success of hundreds of businesses in Central Florida.
He leaves a legacy of entrepreneurial and business expansion which has changed the lives of thousands who are gainfully employed today. Randy is truly respected by the many people he collaborated with over the years.
The SMARTstart Business Incubator, which is a program of the Pasco EDC, is grateful for the support received from The Corridor, which played a vital role in the launch and success of the SMARTstart Program and the many Pasco entrepreneurs who have benefited. The Pasco EDC and SMARTstart members look forward to a continued relationship with the FHTCC and Ed Schons, who will run with The Corridor baton going forward.
* Pictured: Randy Berridge (center) with John Walsh and John Hagen (ret.) of Pasco EDC during the launch of the SMARTstart Pasco Business Incubator in 2013